Tile Grout Cleaning Smyrna TN
Tile and Grout Cleaning Smyna TN
Why do you need to get grout cleaning service?
Tile and grout cleaning is a problem for everyone who has tiles installed in their house or office or any other building, but not anymore with the best tile cleaning and grout cleaning in Smyrna, Tennessee.
Every time you clean your floor with traditional cleaning products, you spread the dust particles and soils throughout the surface. Only the stuff that sticks to the mop is taken away. The remaining particles are left behind, and over time they dull the color of the tile and the grout, making them look dirty even if you have cleaned them.
This unpleasant look ruins the look of the floor and also has a bad impression on guests. This is why we bring to you Tile cleaning and grout cleaning in Smyrna, TN.
Ring us up and we will come running to you
Now you must be thinking that it is time to get the dirty tiles replaced. But there is something else you can do, something better.
Call us and get the fastest mattress cleaning, rug cleaning, Tile cleaning and Grout Cleaning service in Smyrna as 5 Star Carpet Cleaning has incredible deals and equipment to help you make your floor look neat and tidy in no time.
Our professional tile cleaners are well aware of the fact that it is important for you to keep the floor clean and without any spots. Therefore, we are adamant in providing our customers with efficient grout cleaning leaving behind no spots to bother them.
Have your white tiles gone pale?
It is time for us to show you what we have! Tiles at your residence are what keeps the whole look of the house intact. Whether it is your bathroom or your living room, dirty tiles just ruin everything.
With our residential tile cleaning in Smyrna, your problem is solved. The dirty grout that you see along the tiles is no problem for us either with our residential grout cleaning service.
We make use of the latest technology, which includes pressure steam cleaning to remove the dust particles and soil from the tiles and grout. We ensure to use a suitable level of pressure to safely remove the unwanted substances without harming the tiles.
Our first goal is to give your floor a marvelous look with effective tile and grout cleaning and then put down the final seal with our protective gear.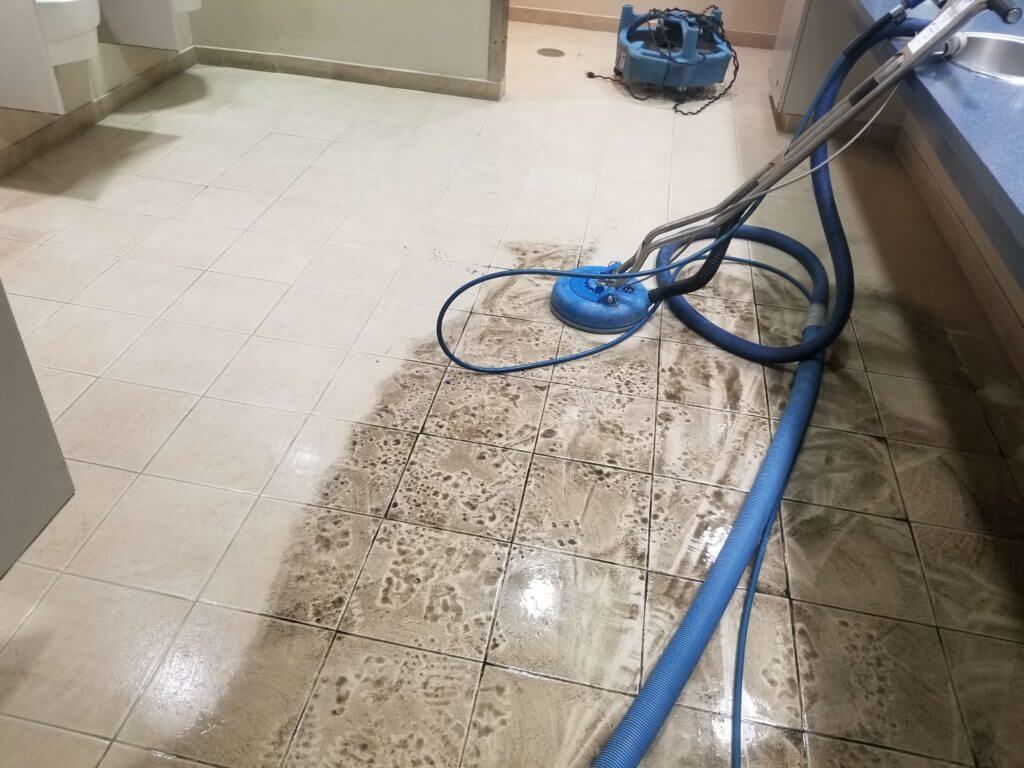 Looking for the perfect solution? You have come to the perfect place!
Your commercial space is where you carry all your business dealings. It is the space where your brain needs to be working at full potential to get the best results. However, with a dirty environment, especially the dirty tiles and grout can be a source of distraction and displeasure.
However, with our upholstery cleaning Smyrna , commercial tile cleaning in Smyrna you can get rid of this distraction. With years of experience at hands, our experts know exactly what type of cleaning material needs to be used on your specific tile color and type.
Moreover, with our commercial grout cleaning, your bathroom or office room floor will shine just as if it was newly installed with tiles.
Our tile and grout cleaning process includes the following
Mopping frequently does help in keeping the floors clean but is really not good enough to get deep into the grout lines – and that is where all the bad stuff happens.
Over the years, 5 Star Carpet Cleaning has become a household name when it comes to carpet cleaning in Nashville, TN. We are the number one carpet and upholstery cleaners that uses green and eco-friendly cleaning solutions and techniques.